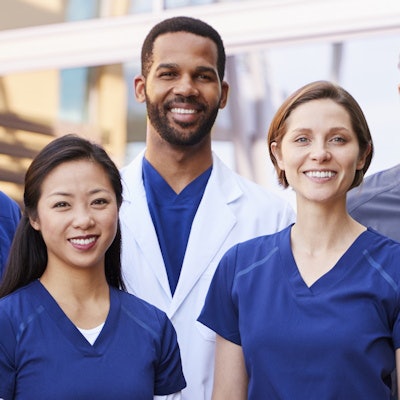 Radiation oncology has some of the lowest numbers when it comes to female senior faculty representation, according to research published January 11 in JAMA Network Open.
That was one of several findings by a team led by Dr. James Janopaul-Naylor from Emory University in Atlanta. The group also found gains in representation among Asians in leadership roles in the field.
However, the results show that diversity and inclusion challenges persist in radiation oncology.
"Addressing physician workforce diversity calls for reevaluation of the entire pipeline from early education to faculty promotion," Janopaul-Naylor and colleagues said.
Despite radiation oncologists providing care to about 50% of patients with cancer, the proportion of medical students who are women or members of underrepresented groups who enter the field is low. This also applies when comparing radiation oncology with other oncologic specialties.
Therefore, Janopaul-Naylor et al wanted to look at the intersections of race, ethnicity, and sex between 2000 and 2019 among senior faculty in radiation oncology compared with other departments. They said that to their knowledge, no previous study on this issue looks at senior faculty demographics in radiation oncology, despite senior faculty having a large role in training future physicians.
Their survey included 853 senior faculty members in radiation oncology, of whom 205 (24.04%) were women. Out of these, 279 were reported to be Asian individuals; 13 Black individuals; 11 with Hispanic, Latino, or Spanish origin; 508 white; and 42 individuals with Native Hawaiian, other Pacific Islander, American Indian, Alaskan Native, unknown, multiracial, multiethnic, or other backgrounds.
The researchers found that out of all the specialties included, radiation oncology had the highest proportion of senior faculty who were Asian men (24.27%) and the 12th highest proportion of non-Hispanic white men (46.31%). It also had the fourth lowest and lowest proportion of non-Hispanic Black men (0.82%) and Hispanic men (0.94%), respectively.
The team also found that radiation oncology had the second highest proportion of senior faculty who were Asian women (8.44%). However, it also had the second, third, and seventh lowest proportions of Hispanic women (0.35%), non-Hispanic white women (13.25%), and non-Hispanic Black women (0.70%), respectively.
Study co-author Dr. Mylin Torres from Emory said that among all specialties studied in 2019, radiation oncology had "some of the lowest proportions" of senior faculty who were members of underrepresented minority groups. The researchers also reported twice as many males (31) as female senior faculty (15) who were of underrepresented minority populations.
"From 2000 to 2019, there were significant increases in male and female senior faculty who are members of underrepresented minority groups in internal medicine, general surgery, and radiology -- specialties that contribute to the oncology workforce -- but not in radiation oncology, although radiation oncologists treat 50% of patients with cancer," Torres told AuntMinnie.com.
The researchers also found that the proportion of female senior faculty in the specialty increased by 0.69% per year.
Torres said that representation in radiation oncology can be improved by programs facilitating mentoring, networking, and leadership opportunities, as well as substantive policies that address systemic exclusion of women, underrepresented minorities, and faculty facing combined barriers related to race, ethnicity, and sex.
"We hope to study factors related to retention and promotion of women and underrepresented minorities in radiation oncology and the effect of programs that help improve diversity and inclusion in our workforce," she added.