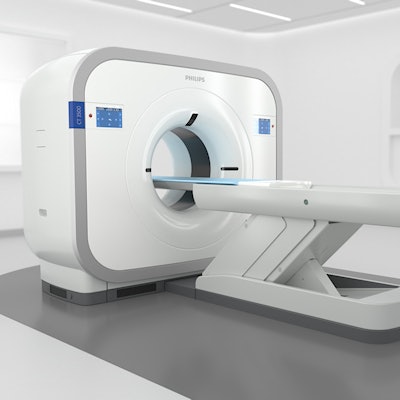 Philips Healthcare parent Royal Philips has launched a new artificial intelligence (AI)-powered 32/64-slice CT scanner aimed at supporting routine radiology studies and high-volume screening programs.
The CT 3500, which was designed with high throughput in mind, includes a range of image-reconstruction and workflow-enhancing features, according to the company. The CT 3500's scanning process is automated by the latest version of Philips' CT Smart Workflow software. Based on tests using a human body phantom, the vendor determined that its Precise Image AI-based image reconstruction software enables the CT 3500 to achieve up to 60% improved low-contrast detectability, 85% lower noise, and an 80% lower dose of radiation.
Furthermore, the system's Precise Position application uses a camera to automatically determine a patient's orientation, yielding 50% improvement in positioning accuracy and up to 23% faster patient positioning time, Philips said. Meanwhile, Philips' Precise Planning software automatically determines the area to be scanned and selects the appropriate exam card based on the patient's anatomy. For tissue biopsies and other needle-based interventions, the firm's Precise Intervention tool offers automated setup and treatment guidance, the company said.
The firm also highlighted the scanner's vMRC tube as well as its internal and external proactive monitoring sensors.
The CT 3500 is being launched at the 2023 China International Medical Equipment Fair in Shanghai and the 2023 Deutscher Röntgenkongress (RӧKo 2023) congress in Wiesbaden, Germany.