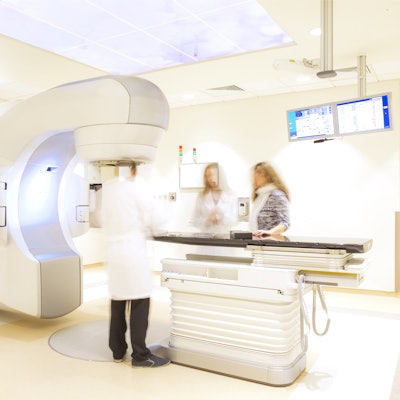 Varian, a Siemens Healthineers company, is showcasing its cancer care solutions, including advanced imaging, software, and services at the upcoming 2023 annual European Society for Radiotherapy and Oncology (ESTRO) meeting in Vienna, Austria.
The company is highlighting its HyperSight imaging software, Identify system, and Eclipse treatment planning system.
Hypersight uses conebeam CT that is faster than conventional linear accelerator-based imaging systems and can acquire large images, the company said. The software is available for the Halcyon and Ethos radiotherapy systems.
The Identify system addresses patient movement during radiotherapy, helping clinicians identify where the patient is during radiation treatment. The latest version of the system offers safety features such as automated beam hold functionality on the TrueBeam platform and process efficiency, the company added.
The latest version of the Eclipse system includes features that aim to improve accuracy in stereotactic radiosurgery treatments, as well as improve conformity for complex stereotactic body radiotherapy cases.
Finally, Varian said it is continuing to expand the capabilities of the Aria oncology information system, and it is introducing InSightive Gen2, a cloud-native analytics software.